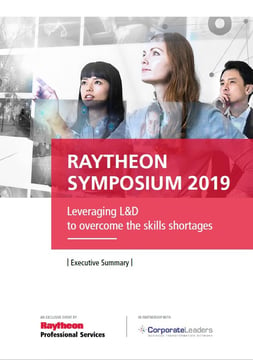 The Raytheon Symposium held in London and Frankfurt brought together senior HR and L&D leaders to share knowledge, best practice and ideas around the theme of "Leveraging L&D to Overcome the Skills Shortages".
The keynote presentations and Learning Cafes fostered deep conversations, connected diverse perspectives to grow our collective knowledge and share innovative ideas on:
Developing skills for future careers
Apprenticeships
Delivering a Learner-centric approach
Creating a learning culture
It was our most collaborative and interactive event to date, and those that attended walked away with some great insights, new thinking and were able to expand their network of contacts. We invite you to read all learnings, knowledge and thoughts of both events in the executive summary. Please fill out the form below to download the summary.
Enter your personal details. Fields marked with a * are required.